What have we been up to since March?
We are making the final preparations to start opening our doors for our first events since March. We thought it would be a good idea to update you on what has been happening in that six-month period; from safety and becoming "Covid-Secure" as well as the awards we have won largely from demonstrating our continued dedication to our customers, suppliers and staff. But before we do that, let us remind you that there are a couple of ways you can already be using Glaziers Hall: 
Meetings: host a board 

or management 

meeting

, to 

strategise

 and plan

, 

up to 30 people. 

 

Arrange a Site visit

: 

If you have seen our virtual tour on our website, but would like to come and see us, first hand, we are here to show you around

 to support your planning of events for the coming months, perhaps a Christmas get together, or a New Year Kick off con

ference. We would love to show you around. 

 
 So, what have we been up to?  The time, since the national lockdown started in March, has been well-used allowing us to invest and to improve in our systems and carry out training for our staff. 
Deep cleaning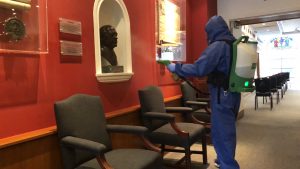 At the end of August, we conducted a full deep clean of the building. This included people in hazmat suits! Every single surface in the building has been sanitised.
The water tower has recently been emptied and cleaned, as part of our regular programme to ensure Legionella isn't in the building.   
These are just two of the commitments we make to you in our Covid Commitment. We have also: 
Removed all paper amenities – paper towels etc.

 

Increased the number of sanitiser points around the building

 

Cleaned all extraction systems

 

Implemented a new entrance procedure and created 3 separate floors so as to provide dedicated space for companies, so as to keep attendees safe.

 
 "Ring" for help
So as to keep the interaction of our staff and guests to a minimum we wanted to ensure that, when you are using one of our rooms, you can get everything you need or want. So as to allow a quicker service, we have installed Ring doorbells just outside each room. You simply ring the bell and, through our phones, we have a video chat with one of our team members who are on hand to sort everything out. 
Best Corporate Event Venue 2020 – London
As we're sure you have seen, many awards have moved purely online. At the beginning of the month the Small Business Awards notified us that we had won their Best Corporate Event Venue 2020 – London 
Award. It's great to be recognised in this way and is testament to the continued professionalism of our staff when taking enquiries and doing showround's, even during these difficult times. 
 This is in addition to winning this award, Over the last six months, we have been certified in two different ways: 
Green Tourism

, 

Gold Award

 won in February 2020

, for our commitment to being environmentally friendly.

 
Safe Venue accreditation "

Good to Go

"

, from Visit Britain

 
 We are extremely proud to be recognised by these organisations. 
Improving our Food
We've always been really proud of the quality of food we provide, but we aren't complacent. The pandemic has pushed us to review the food options and, perhaps currently more importantly, how it is served to you. We have come up with a range of "Bento Box" options for delegates in order to minimise queuing and maintaining social distancing.  
As you can see, we have used the time we've been closed wisely. We would love to show you around as soon as you are comfortable visiting us. Simply call us on 020 7403 3300 or click here to arrange a time to come and see us.