Now we know London is in Tier 2
Business events will be allowed to continue in Tier 1 and Tier 2 areas when the UK emerges from national lockdown on 2 December. We await to hear how the government is going to address the inconsistencies, which to date has seen business events restricted to 30 while theatre performances have been able to far exceed such a cap, the prime minister said that change was on the way.
As a result of the Winter Plan, large events, including business events, elite sport events and live performances may run at the following capacities: At Tier 1 these will be 50% capacity or 4,000 outdoors and 1,000 indoors, whichever is lower and at Tier 2 these will be 50% capacity or 2,000 outdoors and 1,000 indoors, whichever is lower.
Events will not be permitted to run in Tier 3 areas.
Venues hosting business meetings and other such events will need to follow the Meeting Industry Association's Government-approved guidance, while larger events will need to comply to the AEO, AEV, and ESSA's All Secure Standard. We comply with these requirements.
Revised Room Capacities
To ensure you are completely happy to start using our spaces again, we have revised our room capacities: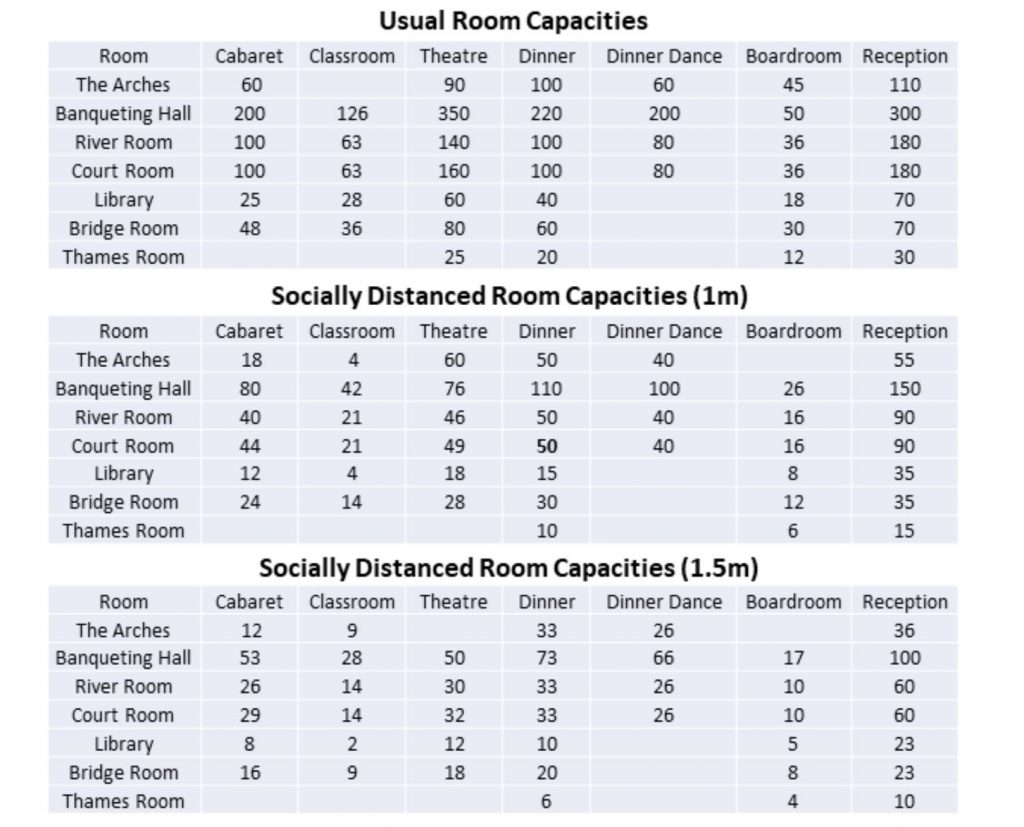 Covid Safe
Your safety is, of course, our top priority. We have been working since before the first lockdown to ensure that everything that happens here will keep you safe.  You can find more details here, but here are just a few of the things we do to ensure your business events go smoothly:
All guests are temperature-checked on entry and we keep detailed records of everyone who attends an event, for track and trace purposes.
Each room has been deep-cleaned a number of times and we will continue to do so regularly.
An increased number of sanitiser points have been installed throughout.
All meals are packaged, to remove any sharing or utensils and minimise queuing.
Separate floors
Each floor at Glaziers Hall can be completely separated, so that your guests do not have to mingle with others on their way in, or out, of the building. So whether you are going downstairs to The Arches or upstairs to The Court Room or Library, social distancing is maintained.
Smiley, Happy, People
The true sign of a great event is the number of smiles visible in the room. We look forward to seeing huge numbers of smiles throughout the building very soon.
Now business events are allowed, if you would like to talk about your next business event or meeting, give us a call on 020 7403 3300. If you would like to attend one of our relaxed Thirsty Thursday events, simply register here.