Events are a normal part of nearly every industry, but how much do you really remember about the last event you attended? If your answer starts with "um" and ends with a long pause, that event clearly did not leave much of an impression. For any company or individual trying to plan an event, the last thing you want is to leave your attendees feeling bored or uninspired. That is why the event experts at Glaziers Hall, a leading London Bridge event venue, have compiled a list of ways to make your event more memorable.
Getting Started
Getting your event to stand out from the rest starts well before the first guest ever arrives. You should begin by creating a streamlined signup process. This is the first interaction many people will have with your event. It is also the first place to lose potential customers. Keep the sign up easy and quick, collecting the basic information you need and providing users with the information that is important to them. This may not seem like the most intuitive way to make your event memorable, and it isn't. It is a way to make your event less annoying for your guests. If a user's first interaction is complicated, frustrating or confusing, they already associate your event with those emotions. These are memories you do not want to make.
Using Social Media & Email
Once your signup process has been created, it is time to start reaching out to attendees. A great way to do this is through a platform like Twitter. If you can collect guest Twitter handles as part of the sign up, why not introduce yourself and invite them to a pre event Q&A. This can also be done via email or other social media platforms so try to match your method of contact to your guest demographic. The goal here is to introduce yourself and help guests meet one another before they arrive.
You can use social media to create a buzz around your event. The easiest way to do this is to begin blogging about event highlights such as guest speakers or industry insights.
The next step is a reminder email. Think of this like a military briefing. You want to keep the email short but offer all the information a guest could need. For an event held in London this could include:
The nearest tube station and parking

Start and end times for the event

What you will need to get in

The ability to print your ticket

A map of the location

A link to the itinerary

Contact information
The Welcome
Now that you have all of your pre event groundwork together it is time to focus on making your event memorable. The first place to start is with your welcome. A table full of name badges or someone taking tickets is not exactly going to knock your guests' socks off so it is time to think outside of the box.
Many smaller events will have greeters who can welcome guests by name. This instantly makes the event feel more personal. Why not add a question into your signup process asking attendees what sweet or other small product they like? For instance, if a guest says they like a certain type of chocolate bar during signup, have it waiting when they arrive and collect their name badge. This adds a personal touch to the event and shows you listened. Try your own spin on personalising your event with drinks, small edible gifts or something more specific to your industry.
Make An Entrance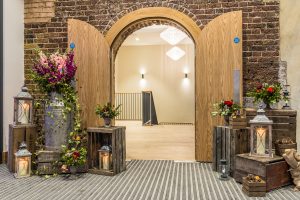 Along with the welcome, your first chance to make an impression is with your entryway. Make it special by adding something interesting. You can use lighting to set a mood, decorations are a great start, or you can offer arrival drinks. Depending upon the size and budget of the event, you can even personalise the entryway. Imagine you are having an event for 20 CEOs. You could switch the lighting to match their brand colours as they enter, project their logo on the wall or even have an audio greeting piped in. This is sure to make them feel special.
Gifts & Swag
The next hurdle to making your event memorable is the swag bag. The bag of free trinkets that so many events offer when you enter. This used to be the domain of cheap branded pens, small memory sticks and the traditional stress ball. The problem is that no one wants any of these things anymore. You have handed guests a bag to carry throughout the event and tasked them with throwing it away discreetly. There are plenty of alternatives to this though so be creative. Just make sure your free gifts fall into one of 3 categories:
Useful

Valuable

Desirable
A good umbrella is a great gift because it is useful and people will keep it for years. A personalised notebook and pen for the guest to use at the event is valuable and will be kept long after the event. A branded box of nice chocolates is desirable and will leave guests happy. The goal is to find something that people are not expecting as this is the thing that they are most likely to remember in their gift bag. You can even try playing on a seasonal theme. A branded advent calendar will stay up for most of December and it is desirable. That could be a great way to interact with guests and send them little notes each day along with their chocolate.
Don't Ignore Decor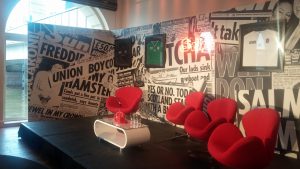 Now that your guests are inside your event and potentially armed with a bag of goodies, you should aim to impress them with your decor. If you are on a budget you may not be able to afford twelve hundred white roses in crystal decanters, but there are still tricks that you can use. Lighting and music can help to set the mood and you can also use a few large focal pieces of decoration or lots of smaller pieces to make your budget go further.
An alternate approach is to use unconventional decorations like smell or items from your industry. There are companies that can pipe in different smells to help you put your guests in the right mood. If you are having a meeting around Christmas for instance you could have the smell of gingerbread baking. This may seem small but it can help put everybody in a festive mood. Using something from your industry is also a great trick. For example, a centerpiece made of stethoscopes for a doctors conference is both humorous and memorable. You can incorporate signage into your decorations. Funny or beautiful signs are helpful to provide information but they also add to the decor and provide photo opportunities.
Great Perks
Once the conference starts it is all about making your guests happy with little perks. If you have the money, some event organisers like to have a free massage station. You can also opt for a sweet treat station where guests can help themselves to a pick 'n' mix. These can be small but they are a great way to break up what can be a very serious day and help raise the energy of the room. Both of these options show you care about your guests and help to provide memorable touch points.
Why not provide more comfortable seating? While a conference of 1,000 people will probably have to sit in standard chairs, smaller groups or breakaway sessions can be pampered with nicer cushions, more comfortable furniture or more casual seating. For a group of people who will be sitting for a long period of time, a comfortable chair can be a godsend. You can also offer fluffy socks or other little amenities to help people relax. Just remember to keep your event interesting or you will have lots of very sleepy guests.
Alongside comfort, it is important to break up an event. Even with luxury seating, attendees will become restless if they are forced to sit for too long. Rather than just breaking for tea, you can actually use these breaks to provide guests with an experience. This could be taking a short guided hike around the area with a tour guide, passing out branded water bottles to help people stay hydrated, or arranging an activity like carnival games. It is up to you what you use so tailor it to suit the tone of your event. Some other popular ways to break things up are:
Prizes and giveaways

A charity photo booth

Live entertainment
Finding The Perfect People
Now that you have a plan for how to make your event special, you should take the time to find the right people to help you make it happen. A good event venue will offer staff to help you get everything ready but you may also need a host or compere to provide information. These individuals are the face of your event and provide information and entertainment so do not skip over them when planning your big day. For smaller events, a host can guide attendees to the correct rooms, offer them information and provide them with a direct point of contact. Larger events may require more staff moving throughout the event or an information booth that can provide a help point. Done right, a good host or helper can turn an angry attendee into a happy customer.
Speakers can be a huge part of your event and can often make or break the experience. Well known, reputable public speakers can influence attendance and make sign ups spike upon announcement. Obviously, you would like them to deliver an interesting and engaging talk but there is more to it than that. Once the speech has finished you should set aside time for questions to give the audience an opportunity to engage. You can also offer a secondary event where the speaker sits down in a more intimate setting and speaks directly with people who have questions. By providing this unfettered access to the speaker you are providing attendees with the ability to get more out of their time and make new business connections. That is a real draw for many attendees.
It's Over, But It's Not
Once the event has finished, many organisers think it is time to put their feet up. In reality, you are not done hosting. You should be sure to send out thank you messages to those people who did attend and reconnect with anyone who was unable to make it. Your contacts should include comment cards as well as information from the event. Many larger conferences will record each speaker and provide a link to the video recording in their thank you email. This adds value to the event and keeps users engaged.
Use these tips to improve your events and increase engagement with attendees. Remember that making an event memorable starts by putting yourself in the shoes of your guests. If you can anticipate their needs, everything else will follow. If you would like some help with an event, contact Glaziers Hall to find out more. Our expert staff can help you find a memorable conference venue in London, reception venue or space for another event. Call us today at 020 7403 3300.